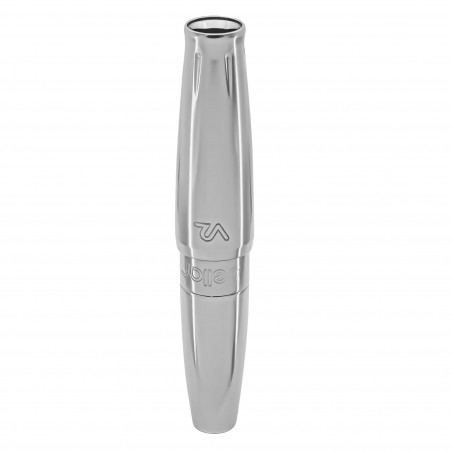 Microbeau Bellar V2 - Permanent Makeup Machine - Silver
The Microbeau Bellar V2 Silver is an improved version of the Bellar permanent make-up pen style machine with a 2.7 mm stroke. Designed to give PMU artists maximum control and precision during pigmentation.
MAXIMUM PRECISION
The Bellar V2 is a comfortable PMU machine with a design that allows for detailed line work. Thanks to its advanced technology and precision design, it will not only provide you with excellent line quality but also ease of use, and the improved 'click' handle adjustment will provide more sensitive and accurate adjustment during PMU procedures. 
SUITABLE FOR ANY TECHNIQUE
With a stroke length of 2.7 mm, the Machine from Microbeau offers even greater versatility than its predecessor and allows for cleaner, deeper pigment deposition while providing increased comfort. With its light weight and excellent grip, it is ideal for drawing thin lines and a wide range of permanent make-up treatments.
A LUXURY MACHINE AT A GOOD PRICE
Microbeau Bellar V2 Silver is a US-made PMU machine that combines beauty and sophistication with accessibility. The Bellar V2 is designed for reliability and durability, making it the ideal tool for permanent make-up artists who want to achieve extremely precise and professional results with luxury equipment at an affordable price.
SPECIFICATION:
Stroke: 2.7 mm
Weight: 81 g
Handle: 21-16 mm
Power supply: 4 V - 9.5 V
Made in USA
Color

Silver

Stroke

2.7 mm

Machine type

Pen

Wired/Wireless

Wired

Interest filters

PMU
User reviews
No customer reviews for the moment.