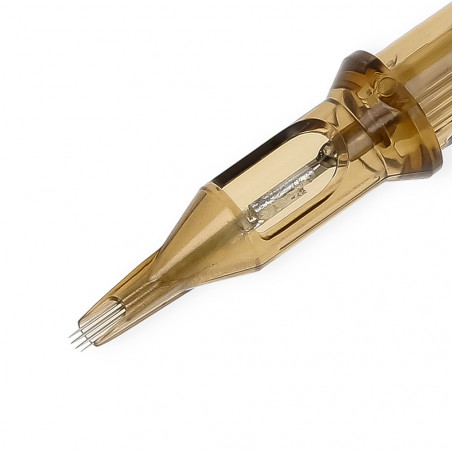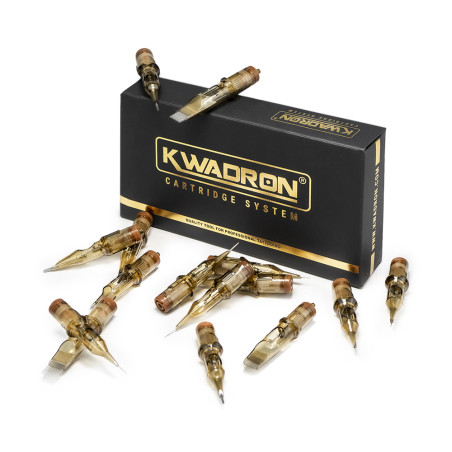 KWADRON Cartridge System - Sublime - 0.30mm SEM - Soft Edge Magnum - 1pc
Cartridge Sublime Kwadron with a diameter of 0.30 mm (#10) SEM - Soft Edge Magnum. The Sublime version has a newly developed cartridge tip - working with them is easier while maintaining the highest precision. Soft Edge Magnum is dedicated to shading and filling, ideal for large, wide areas.
Package of 20 pieces, price per 1 piece.  
Manufacturer:

Kwadron

Product code:

CKD363-7

Status:

Available
Technological advantage of Kwadron Sublime
Sublime is KWADRON's latest cartridge developed to make working with them easier while maintaining the highest precision. Compared to standard KWADRON cartridges, the Sublime version has a newly developed cartridge tip. The main difference is a more precise fit of the needle inside the spout. This prevents the needle from bending during tattooing, significantly improving the precision and stiffness during the work. Another change is a newly designed, special textured texture of the walls inside the spout, which resulted in a much better and more even flow of ink. In addition to the innovations in the KWADRON Sublime cartridges, we used the unique needle stabilization system proven in standard KWADRON cartridges, which ensures their durability and optimal performance. Cartridge Kwadron System is the most technologically advanced tattoo cartridges available on the market. Bet on the best solutions and raise the level of your tattooing.  
Use of the Cartridge Magnum Sublime
Magnums are the preferred type of needles for most shading jobs. The cartridges due to their design have great Inkflow, which makes them ideal for packing color over larger areas and for shading large areas of skin. With the Magnum cartridges, fewer passes over an area are needed to pound the paint, which means less stress on the skin. This translates into faster tattoo healing and a better end result.  
Kwadron Soft Edge Magnum   
Because of their "curved" shape, curved magnums allow the tattooed colors to blend seamlessly without creating a marked edge of color. This effect is perfect for creating a blurred background, a photographic bokeh-like effect, blending and blending colors with a soft transition. With Kwadron Soft Edge Magnum you will make the edges of the image "blur" on the skin, instead of being outlined.   
What size of cartridge Soft Edge Magnum should you choose?
If you are wondering what size of Kwadron Cartridge Soft Edge Magnum you should choose, we have a hint for you. Smaller ones (fewer needles in the cartridge, such as 25/7) are great for filling narrow areas, shading fine details and creating texture. As a general rule, you should use the largest magnum that the tattoo you are doing allows. If you choose to use a small SEM to cover a large area, it will be more difficult to achieve a uniform fill or smooth transition. For example, if you use a size 7 magnum to fill an entire tribal style sleeve, it will take forever and cause unnecessary skin damage to your client. If you do a colored background, the color application will be uneven and cause uneven healing of the tattoo. If you're going to fill in large areas of skin, use a larger magnum, such as 21 or 23, or choose a newcomer from Kwadron, the Kwadron Combat Magnum. These will cover a larger area and produce smoother gradients than smaller sets.   
Sizes of tattoo needles make a difference.  
Not only are the needles labeled 0.35 (#12) larger than those labeled 0.30 (#10), but the distances between needles in their configurations are also larger. Therefore, while a 0.35/15 Magnum needle, for example, will allow you to quickly fill a large tattoo area with color, the 0.30/15 magnum configuration will be slightly smaller, despite having the same number of needles, because their placement is closer together. This will slow you down because the needle will not be as large and will deliver less ink to the skin, Using a cartridge 0.30 (#10) needle size provides a smoother application of color to the skin, will allow for softer shading and make smoother transitions between black and gray. The smallest size of 0.25 (#08) will allow you to do fine details, for example, in portraits it allows you to go over the skin several times, which minimizes skin damage, but slows down your work. If you need to indent or fill an area with solid color choose 0.30 (#10) or preferably 0.35 (#12). 
Kwadron Cartridge System  
One of the fundamental factors that led to the creation of the KWADRON cartridges was the desire to provide a product with the highest utility and, above all, the highest quality unattainable by other brands. Using professional knowledge and experience, following trends and listening to tattooists, we created cartridges perfectly tailored to the needs of our customers. Cartridge Kwadron is the undisputed leader in the world.   
What Kwadron Cartridges are made of?   
The highly advanced and automated technological process used in the production of KWADRON cartridges ensures that each cartridge is equally perfect. Our cartridges have a unique needle stabilization system that ensures their durability and optimal performance. The cartridges' housing is made of medical-grade plastic, reducing friction between the needle and the housing to a minimum, while the needles themselves retain their sharpness. Thanks to all these features, Kwadron cartridges are extremely precise, with stiff and focused blades. Ideal for any technique, style. Achieve more with Kwadron cartridges! 
Type

Soft Edge Magnum

Thickness

0.30 mm

Edge

LT

Interest filters

Tattoo
User reviews
No customer reviews for the moment.