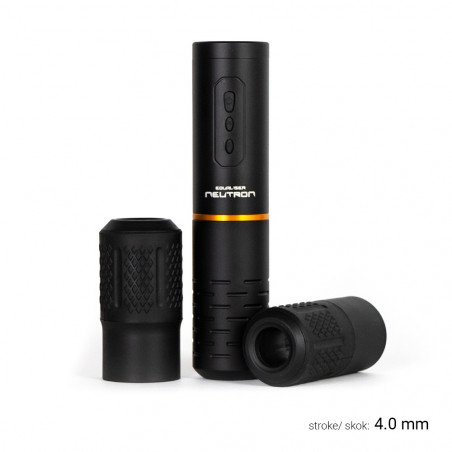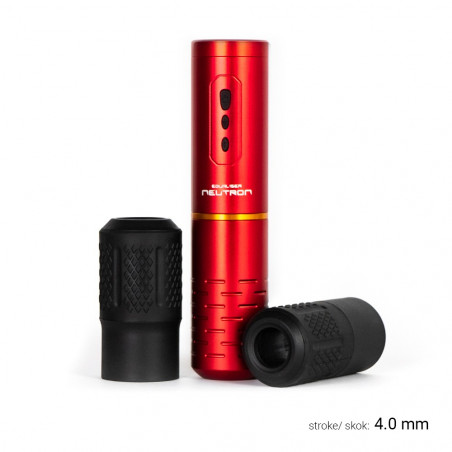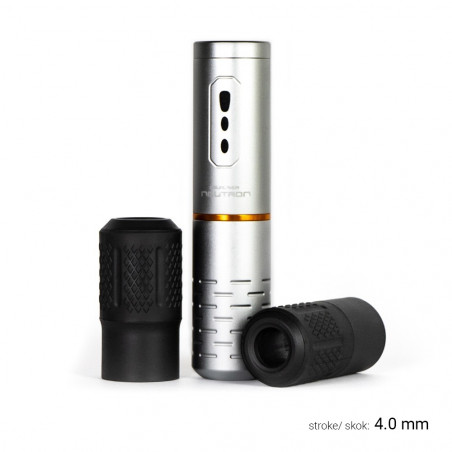 Equaliser Neutron - stroke 4.0 mm
We keep up with the rapid development of wireless technology in the tattoo industry! This is the right time to apply all the latest innovations to a new machine from Equaliser. Introducing to you the state-of-the-art Equaliser Wireless Neutron tattoo machine in a 4mm stroke version, which will be perfect for creating precise lines and contours.
Manufacturer:

Equaliser

Product code:

MSE16-NB-4.0

Status:

Available
Wireless tattoo machine - take it to the next level
The Neutron from Equaliser is an excellent choice for tattooists who value convenience and maximum control. The machine is easy to use and has an ergonomic grip tailored to the requirements of demanding users. The cordless design allows freedom of movement and mobility. 
What makes this tattoo machine stand out from the competition?  
It uses a lot of modern solutions, so it provides stable operation, long working time on a single battery charge without losing power. On top of that, precise regulation of voltage and motor operation - including an updated PCB layout. All components used in the Neutron are of the highest quality, without any compromise!
Replacement battery in tattoo machine
Equaliser Wireless Neutron is equipped with a replaceable battery. It guarantees continuous operation without having to take breaks to charge them. Two batteries are included, so when you work, one battery is in the machine and the other is waiting at the ready in the charger. This is perfect for those who work in a studio where there is no time for breaks! 
Aluminum housing and top-quality materials 
Despite enclosing as many as three different components - power supply, cable and machine - in a single housing, it is the size of a standard razor. The Equaliser Neutron cordless tattoo machine weighs just 170g! The casing is made entirely of aircraft-grade aluminum for durability and aesthetic appeal. 
Equaliser Wireless Neutron - work the way you like, that is, precise voltage adjustment.
The machine has a precise voltage adjustment in 0.1 V increments between 5-12 V. The recommended voltage is 6-10 V. It allows you to get excellent results while working using the best potential of our machine.  
Dimensions and weight of the wireless tattoo machine 
The Equaliser Neutron tattoo machine is 130 mm long and 32 mm in diameter. The weight of the machine without batteries is only 170 g, which makes it very light and handy. The weight of the battery is 30 g.
Stroke

4.0 mm

Machine type

Pen

Wired/Wireless

Wireless

Power

4.5 W

Weight

170 g

Operating range

5 - 12 V

Interest filters

Tattoo
User reviews
No customer reviews for the moment.