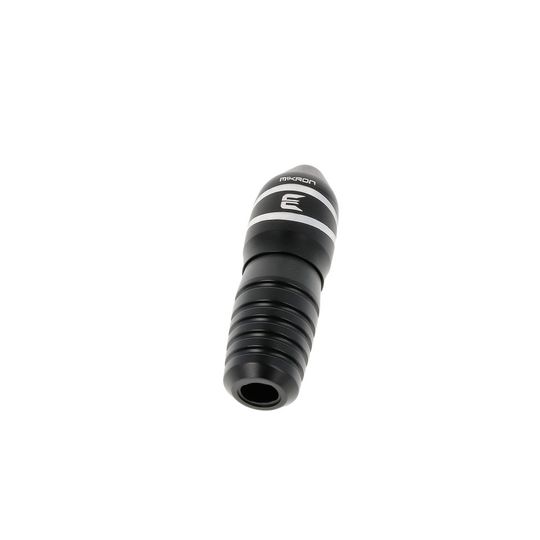 The Equaliser Mikron Turbo is an excellent rotary tattoo machine that was created with professionals in mind. Its trouble-free design and numerous advantages make it an ideal tool for tattooing with a variety of techniques, such as filling, shading and linear techniques
Manufacturer:

Equaliser

Product code:

EM1T

Status:

Available
Lightness and Precision of the Equaliser Mikron Turbo tattoo machine
One of the most impressive features of the Equaliser Mikron Turbo machine is its design. Both the machine and the handle are made of aircraft-grade aluminum, making the entire device weigh just 104 grams. This allows you to work with greater precision and comfort, even during long sessions. The lightness of the machine helps minimize hand fatigue, which you will appreciate especially during long tattoo sessions.
Protected RCA connection
The Equaliser Mikron Turbo machine is also equipped with an RCA connector, which has been intelligently hidden inside the housing at a 35-degree angle. This treatment makes it easier to use the tattoo machine. Thanks to the hidden RCA connector, accidental disconnection of the machine during operation is avoided, which is crucial for maintaining a stable connection and smooth operation. 
The power, performance and control of the Mikron Turbo tattoo machine
The Equaliser Mikron Turbo machine has a powerful 4.5W motor for stable and efficient operation. An added advantage of this machine is the adjustable aluminum grip. This ergonomic grip provides comfort during work and allows you to adjust it to the artist's preference. This allows you to achieve optimal control over the machine and get excellent results. 
Reliability and professionalism for the demanding in the Mikron Turbo version
The Equaliser Mikron Turbo rotary tattoo machine with aluminum grip is a reliable and professional tool for any demanding tattooist. Its light weight, solid construction and precise operation make it an ideal choice for anyone who focuses on quality and efficiency in their work. Choose the Mikron Turbo Equaliser to raise the level of your work! 
Stroke

3.5 mm

Machine type

Rotary

Wired/Wireless

Wired

Power

4.5 W

Weight

104 g

Operating range

6 - 8 V

Interest filters

Tattoo
User reviews
No customer reviews for the moment.